Janey Roh / March 8th, 2017 / 0 Comment
What happens when an innovative tech start-up that leads on values meets a community go-getter and reflection champion?
Today, Kudoz was at Traction on Demand, a fast growing tech start-up and one of the first 100 certified B Corps in Canada. Sung, a Kudoer and reflection champ was interested in learning about software development so eagerly booked the Traction experience as soon as it came available on the Kudoz Catalogue. He is the first Kudoer that Katie, Traction for Good Coordinator has hosted.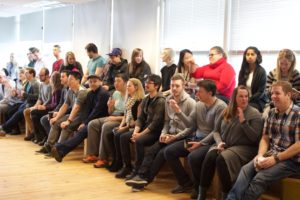 Katie greeted Sung with a warm smile and a handshake. After grabbing a glass of water from the kitchen and meeting a few Tractionites (staff at Traction) along the way, Sung and Katie headed to the 3rd floor to join the Traction Huddle, a time where the entire organization gathers to kick off the week with introductions to new Tractionites, shout-outs for outstanding performance and updates from the CEO, Greg Malpass. Sung was fully part of the huddle, getting the chance to introduce himself to the 250+ Tractionites that were present in the room as well as to the satellite offices in Montreal and Toronto.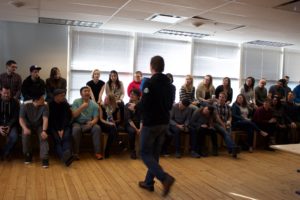 After the morning huddle, Sung and Katie headed around the Traction office to get a lay of the land. Rooms made of hockey sticks, Tractionites taking time to flex not just their brains, but bodies on the Bowflex in the middle of the room; Sung was greeted by many welcoming smiles.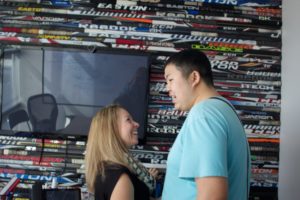 Katie introduced Sung to software development using an MIT created program that introduces people to coding by getting them to develop their own 'stories' though animation.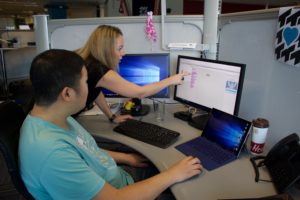 After a bit of programming, Sung headed off to meet Nicole, Manager of Brand and Design. She showed Sung how Traction uses design to capture a story or moment about Traction, and then translates that into a design that gets printed on t-shirts for the whole company. A wearable snapshot of Traction history.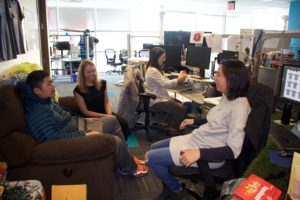 Sung's experience at Traction on Demand was a taste of what it's like to work for a tech-start up. But experiences aren't just about the development of skills or gaining a new interest. They are also about getting Kudoers acquainted with newness and novelty, to stretch their imaginations around what is possible. Traction is doing the same with their Tractionites. Katie shared, "People are coming out of their comfort zones, to this workplace. And Kudoers are doing this all the time. You know what's so special about that? Doing what you're afraid of, that that's where life begins. We could all learn from that."