Laura / April 13th, 2017 / 0 Comment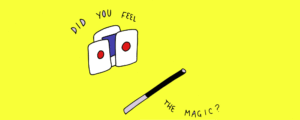 When you picture magic, what do you picture? For me, it's people, coming together to learn something new.
That coming together happens every day in Kudoz, but our #openexperience series has been a bit more special. Hosts, Kudoers, and community members all show up to learn together. At one point it was totally a ploy to get more Hosts, but now it's something more intimate and welcoming.
This past Friday, Christopher Taylor brought that atmosphere back! He came to share his passion for Imagineering. You need to know that Imagineering is his livelihood, he's made magic his full time work, and he's darn good at it.
Before that he was a school teacher, and I can safely say he must have been darn good at that too.
While watching Christopher's grace on stage it's hard not to think about the work he's put in. Smooth, calm, in control and always reading people.  Christopher is a performer and the way he does that comes with a lot of risk. Magic doesn't always work because the participant isn't 100% predictable.
When you expect someone to read left to right there's always that off chance that they read right to left.
This is familiar as a Host, Kudoers don't always give us the reactions we expect either. Where Christopher has seen that as a beautiful challenge in his craft both on and off stage, I've sometimes filled those gaps with anxiety. Not knowing if things have gone as smoothly as predicted. But in time fluidity comes, along with practice, exposure, and confidence—all things I think we get more of every time we host.  
Christopher shared that magic is only magic when it's in the right context. When it's not being performed it's only a trick.
I've spent a lot of time being a learner and a bit being a teacher, but Kudoz is doing both at once. That's the context: without a Kudoer I'm just doing the same things I always do. It's just a trick until I connect and share with people because their presence is the magic.