Kudoz / February 1st, 2016 / 2 Comments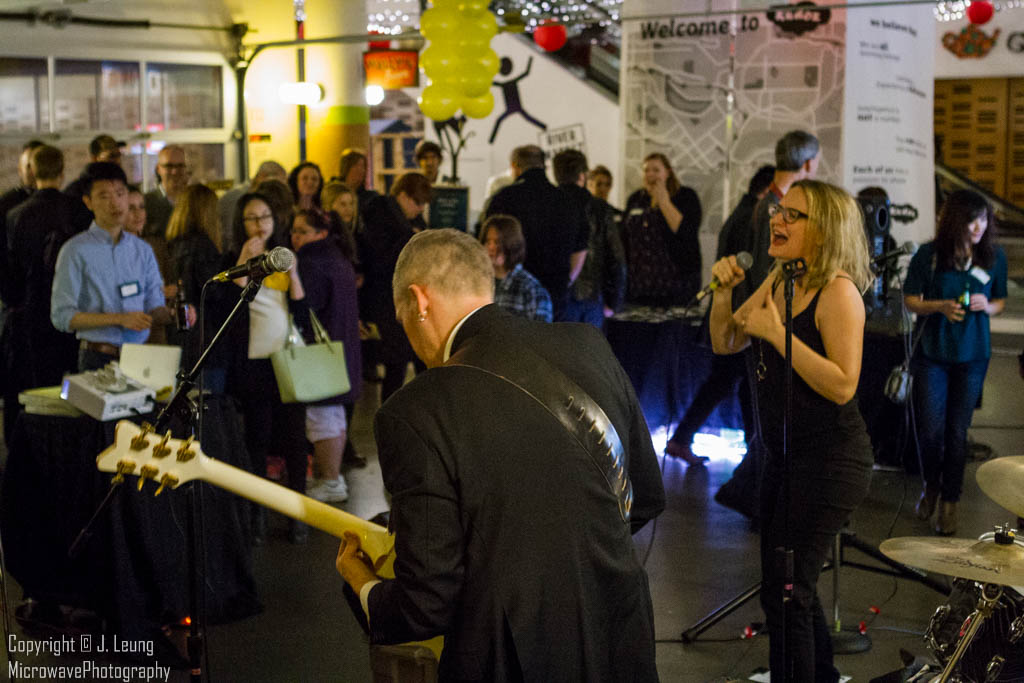 The live rock and roll music was a clear indicator of where the party was at. It was Friday night at the New Westminster Quay; the food hall restaurants had closed and the River Market space had been transformed with balloons, banners, and projection screens. There was traffic at the event registration desk and the hall was quickly filling up with artists, activists, academics, social innovators, community members, and folks from inside and outside the disability sector. The sold out Kudoz Launch Party started off with a bang and never let up all night.
Resolutionary was part-launch party for a new kind of social start up: Kudoz / and part-celebration of the all of our new year's resolutions to try something new or get back into an old hobby in 2016.
This event would not have been possible without the incredibly hard working Kudoz team, our mega enthusiastic crew of volunteers, the extremely talented artists and performers, our wonderful event sponsors and vendors, and all of you that came out and showed your support! We have a lot to be grateful for.
Three cheers to the year of splendid experiences ahead!!!
Get in touch to find out how to become a host + how Kudoz can help you get back into a hobby or try something new in 2016. 
Phone: (604) 862-5836 / Email: hello@kudoz.ca
Shout outs / thank you so much to:
Opening Band – Cass King & The Next Right Thing
Guest Speaker – Honourable Mayor of New Westminster Jonathan Cote
Lightning Talk Speakers – Vanessa Timmer, One Earth (what will you do less of this year?); Christina Waschko, Motherpreneur TV (kiss your excuses goodbye!); Rita Lee, Life Coach (remember to be grateful); Alexander Dirksen, social impact strategist (find and nurture your spark); Joe Kelly, Project Change (make S.M.A.R.T. goals); Jorge Amigo, social entrepreneur (connect with others through music); and, Carleigh Baker, author and poet (sharing poems of team work, passion, perseverance, and curiosity).
Breakdance Performance – Now Or Never Crew
Closing DJ – Cam Goodman, aka. DJ C-plus
Graphic Harvesting – Bobae Kim, posAbilities
Passion Portrait Illustrators – Luke Minaker & Shari Van Spronsen
Event Rentals – One Stop Party Rentals
Food Catering – Wild Rice Restaurant
Event Venue – River Market
Flowers – Noriko Nagami, Love and Mist Floral Design
Photography – Jay Leung, Microwave Photography
Kudoz mini-documentary – Rheanna Toy & See Together Media
And, Big Ups to our volunteers who went above and beyond! Thank you: 
Michelle Owen, Holly Eglison, Jordan Unrau, Nadia Kuzma-Cuthbert, Cam Goodman, Ivan Van Spronsen, Rita Wong, Ivy Staker, Nicole Aleong, Tyler Trepanier, Greg Frose, Steve Frose, Heather Johnstone, Andreana Karogiannis, Katherine Allen, Brooke Oxley, Ryan Cushman, and Nathan Graalman.