Lisa Joy Trick / January 12th, 2016 / 0 Comment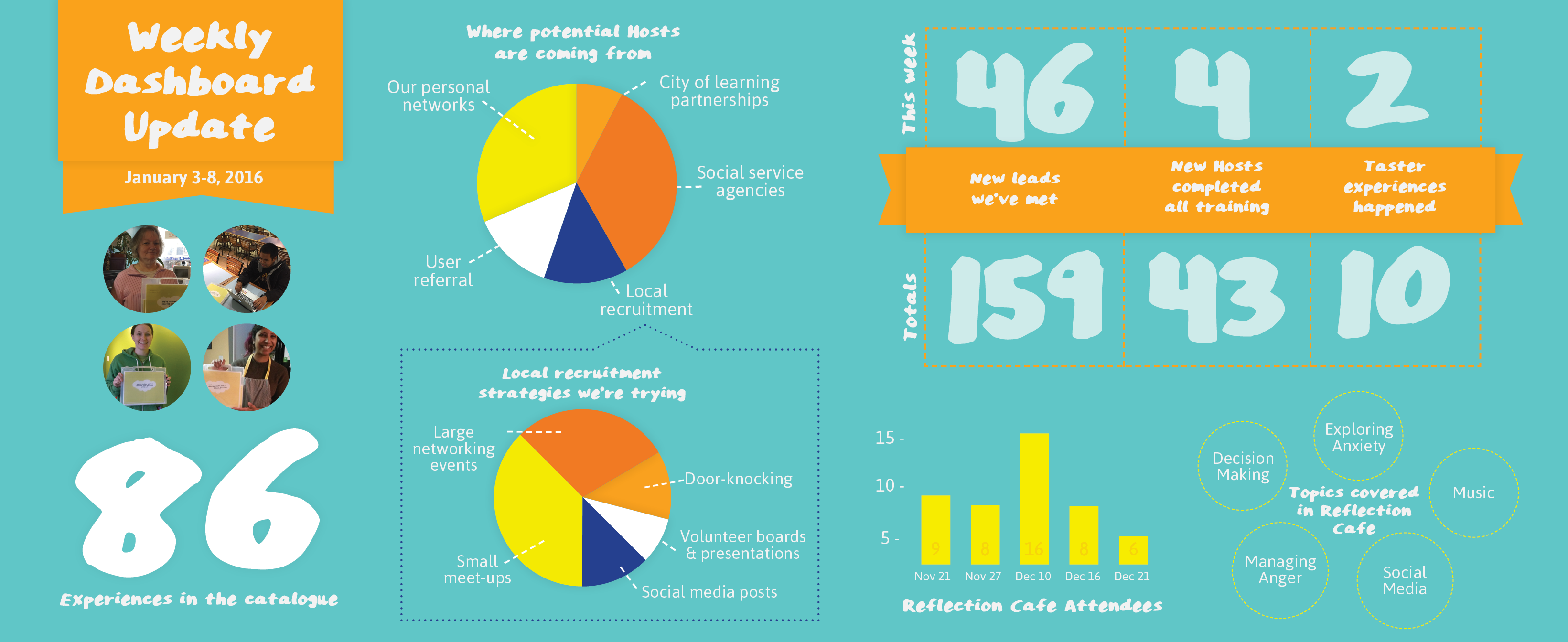 It's a new year and accountability is one of our goals for 2016. This means we'll post a weekly update sharing our stats and what we're learning.
We're sharing our delivery numbers – both for the week and our project totals and we've zoomed in on two areas – host recruitment and reflection cafe.
Host Recruitment Insights
We looked at almost 90 leads we're hoping will become hosts to see how we met them. Then, we zoomed in on our local recruitment strategies. What we wanted to know is how to use our time more effectively.
We're excited to see how many of our hosts are coming to us because another host or a kudoer is referring them. This is a spread model we love… the early adopter model!
It's also encouraging to see how our partnership with New West, our first City of Learning is starting to generate leads.
It would be good to do this again in a month and only look at recent leads. We may be coming close to tapping out our personal networks so might need to focus on other strategies.
Door knocking takes a lot of time and it's not working that well and meet ups are working well and are a a good use of time. Social media posts surprised me a bit because we haven't been very intentional for long. We can do more.

The way we bring in leads is shifting as we entered start-up mode. Before we looked inside the sector and our personal networks. We were more timid, pleading with our cousins to just try it, chatting with our old friends, reminding them of the cool stuff they used to do. But now we're reaching out to new networks by going to events, small meet-ups and reaching out online. Everyone has a passion to share, and with a much more practice and clarity, we ask for them to share it.
– Laura, experience curator

Reflection Cafe Insights
We're doing pop-up Reflection Cafes in New West, Burnaby and Vancouver and our Vancouver morning events are getting the highest participation. Guest reflectors with a lot of expertise in a topic area and a specific reflection topic are more interesting and we're excited by how many people out there are interested in volunteering as a guest reflector.
Next up we're going to focus in on how to make Reflection Cafe the right space for Kudoers to connect and think about their experiences and choose new badges.