Mathew Arthur / May 22nd, 2018 / 0 Comment
Hey Hosts!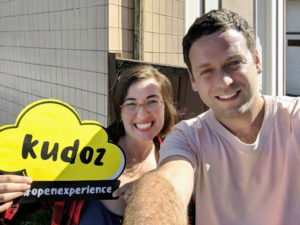 Curators Andie and Mathew here with some tips on leaving meaningful feedback after hosting an experience.
Kudoz is all about deepening interests, building optimism, and improving soft skills. Kudoers want to know what you noticed about them during your experience. What impressed or surprised you? What can be improved on? What is something Kudoers can try out after your experience to keep the buzz going? Kudoers can choose to display your feedback on their profiles for circle members and future Hosts to see.
The 3 ingredients of meaningful feedback

What impressed or surprised you?
Giving feedback that praises efforts (instead of accomplishments) enables us to attempt bigger challenges. You'll notice in the example feedback that Andie was surprised by Mathew's willingness to step off the usual path and try something new. Trying at the challenges presented to us helps build our sense of competence.
What is something to improve?
Feedback doesn't have to be warm and fuzzy (but it should always be kind!) Enabling a Growth Mindset means you don't have to be afraid to leave honest constructive feedback. You'll see in the example feedback that Andie notices that Mathew showed up late. She leaves a practical tip for what Mathew can do next time he's running behind schedule.
What can Kudoers try next?
Going on experiences is a way to discover interests and grow them! What can Kudoers try out after your experience? Are there YouTube clips, library books, community groups or classes, or other Kudoz experiences a Kudoer might want to check out?