Tamsen / March 20th, 2017 / 0 Comment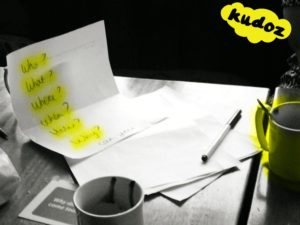 Coffee and Conversation
Curious about what goes on at Reflection Cafe?
Each Reflection Cafe is unique. It often has a different theme, different people attend, sometimes there's a speaker or an event planned. It also rotates between a few coffee shops in different areas, so everyone has the opportunity to come.
One thing for sure, it will always surprise and delight!
One of the recent 'RC"s was titled 'Gaining Confidence in Conversation'.
All of us have struggled at some point in our lives with small talk, or have had difficulty engaging in interesting conversation.
It's a vital part of social etiquette, it builds confidence and its the pathway to connecting with others on a deeper level.
Author and speech pathologist Carol Fleming concurs, saying "it's not just a bunch of 'fluff'. Small talk serves an important role in our relationships with others, and initially it's about building trust."
Think about how sometimes a conversation can start with something quite ordinary and evolves to a point where you may have some things in common. Small talk can lead to things like a new friendship, a job opportunity or a new interest, just to name a few. Not so small is it? It's really about deeper more meaningful conversations, but they all have to start somewhere.
We decided to tackle this subject at Reflection Cafe and model a conversation. Intentions and thoughtful planning are built into each experience and interaction, also taking into account that there may be people that do not wish to participate with the group, but may prefer an individual activity instead.
This particular day, everyone wanted to join in. It began with a little game of 'telephone' to get those listening skills warmed up. You might have played it when you were a kid. One person starts, whispering a few words in the ear of the person next to them, who in turn whispers to the person beside them, and so on. The last person says out loud what they heard. Lots of things often get lost in translation. If it's what the original words or sentence was, then great listening skills!
If not what happened?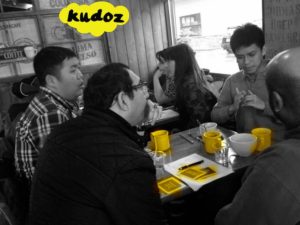 Coffee Talk
Next a scripted mock conversation was acted out. The first time was so the attending group could just listen. The second time they could ask what would come next? After that everyone could initiate their own conversation.
A question was asked by one Kudoer to another, then answered. Then nothing.  Oops… end of 'conversation'.  Keeping a conversation going is a lot harder than it seems! It really is a skill, and  practice is essential to gaining confidence.
We talked about how the conversation could possibly be improved or not, and how, where, and with whom we could use some of the things we've practiced today, encouraging peer to peer conversation and creating their own questions.
"Does anyone know the 5 questions that we might ask to move the conversation forward"?  Someone did! So a little sheet was written up with the questions 'what?', 'where?' 'when?' 'why?', 'how?'
This helped. A lot. It took some encouragement and repetition, but some conversations were being had. Some very interesting ones.
Favorite quote of the day " Do you have any chickens?"
Now that's a great conversation starter!
Ahhhh Reflection happening all around!
Why is reflecting so important?
Reflection is a pre-requisite for learning, and Kudoz is all about learning. We constantly ask ourselves:
What are the ways Kudoz can enable Kudoer's, Circle Members, and Hosts to reflect together, find meaning from their everyday experiences; and over time, see fresh perspectives about themselves, their futures, and the world around them?
                                                                            A roll of the dice
To wrap things up, we did an activity using a dice we made that could be rolled by each participant, and has different conversation starters on all sides.  Questions like 'Describe your last experience', and 'Why did you come today?' This was to build reflection in the moment, to reflect on what we had just done.
We would love to have you join in our coffee and conversation. The kinds of conversation that contribute to individuals well-being and sense of self, one of the things that we think will contribute to the outcomes for Kudoer's that we are after in Kudoz.  That's because no matter what we are doing it involves connecting, building relationships, reflecting and learning about each other. This is a two way street. We need each other. We learn so much about ourselves from being present, listening and reaching out.
Everyone is welcome to join this bi- weekly event! Curious folks, hosts, friends… friends of friends! Please check our Facebook page for our upcoming Reflection Cafe and events, we would love to have you with us… and be part of our conversation!