So you're hosting a Kudoer and want to know what to expect?
Browse Andie's tips & get prepared.
Andie's Top tip #0: People first.
We're all people. Yup, we each look and present differently, but underneath it all, we're pretty darn similar. We're each putting ourselves out there and being quite vulnerable. 
Top tip #1: Words schmords.
Services talk about Kudoers as persons with a cognitive disability. The terms cognitive, intellectual, and developmental are used interchangeably. Ask the Kudoer which words they prefer.
Top tip #2: Talk normally.
Kudoers are adults! No need to talk louder, or in a more child-like tone. You could start by asking a question, or sharing something about yourself. Make a comparison to some of your favorite things. Bond over a common frustration or challenge.
Top tip #3: Let me finish.
Sometimes it's easy to step in and finish someones sentence or guess what they are trying to tell you before they've gotten it out. There are a few Kudoers that take their time when communicating and need the space to do so.
Top tip #4: Be kind and honest.
If you're not understanding what a Kudoer is saying, or you're finding a behavior challenging, say so! Just make sure you own it. "I'm finding our conversation is a bit too loud" is better than, "You are being too loud."
Top tip #5: Engage directly.
If the Kudoer comes with a family or staff member, it can be tempting to have a conversation with them. As much as possible, direct questions to the Kudoer first.
Watch Cassandra Ebner share what makes a great learning experience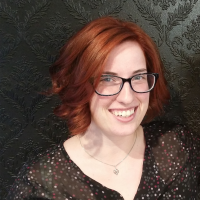 Need to chat?
Andie is our Experience Curator and she loves to coach hosts and get new folks up and running. Give her a call if you have any questions.
Just call 604.862.5836 or email hello@kudoz.ca.