Laura / July 14th, 2017 / 0 Comment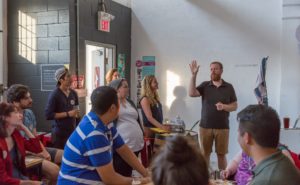 Beer is a good metaphor for Kudoz. It changes with age. You can add hops or roast grains—to taste. It's something that can take you back in time. A caramel note might feel as warm as the piece of melted dark chocolate you licked off the wrapper last summer. The pop of citrus? Like your Mum's perfume. Blackberries like the ones you picked in elementary school, while trying hard not to get pricked by thorns.
Wednesday night we spent a few hours sipping beer at Callister Brewing with our lovely hosts, Chris and Ben. Callister describes themselves as "a co-working brewery" and it's not hard to see overlaps between Kudoz and Callister.
We both believe that people have a lot to offer each other, and that the best way for us to move forward is to collaborate with other people doing similar work. "Collabrewation," as Chris puts it.
When Kudoz was created, we didn't know what we'd be brewing. With each experience we get a taste, but last night's #openexperience was like drinking a full flight. It was good. We overheard beautiful conversations and wonderful laughter. One glass at a time.
This feeling of community has come with age and is steeped in all the amazing things you've brought to it.
So – next time you're having a beer, maybe that sweet taste, tangy pucker, or caramel warmth will remind you of the moments you had Wednesday night – because it was a pretty fine brew…thanks to you.
**You should really check out Callister Brewing and their awesome co-working model! Pop in to see them at 1338 Franklin St for a taste of 12 fantastic rotating taps of locally brewed craft beers – plus friendly faces!