Janey Roh / March 17th, 2017 / 0 Comment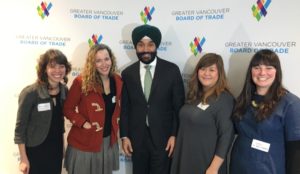 "It's all about lifelong learning. Creating opportunities. You have to bet on people." We couldn't agree with Federal Minister Bains more. That's what Kudoz is exactly about, enabling lifelong learning for adults with a cognitive disability.
This week we were at the Vancouver Board of Trade where the Honourable Navdeep Bains, Federal Minister of Innovation, Science and Economic Development was speaking on Canada's innovation plan for the future.
Federal Minister Bains stated that innovation, "needs to be inclusive and have accessible opportunities." That innovation is defined as having better outcomes for society for a better quality of life, "It's about engaging civil society for economic, political, and social well-being." Kudoz is also looking to get at better outcomes for adults with a cognitive disability. We think that ongoing learning and novelty help bring about better mental health, increased independence, and meaningful employment. Hearing that the federal government's agenda aligns so closely with ours gives movement to continue to push for a more cognitively accessible world.
Bill C-25 requires publicly traded corporations to have a diversity policy. The focus is on the number of women that occupy roles in management and seats on the board. We want to push further and have corporations also focus on drawing from another pool of talent- adults with a cognitive disability. Federal Minister Bains stated that it's important to "look at diversity of thought and perspectives." Kudoz is striving to have the thoughts and opinions of people with a cognitive disability be heard.
"We don't go for the usual suspects," stated Federal Minister Bains. He wants to engage people in conversation that aren't usually at the table. We look forward to having a seat at that table.